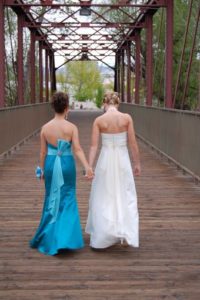 There's no doubt if you've been made a Maid Of Honour the bride is a pretty special woman in your life so it's important to get this job right. 
You've basically been entrusted with the important task of looking after your bride from the minute you're appointed until the wedding day is over. 
And it's not just an excuse to dress up.  It's a big responsibility that needs taken seriously. 
From being there for every breakdown and pointing out those scary bridezilla moments to offering an honest opinion about everything from the venue to the dress and flowers it's a rocky road you're about to embark on. 
Here are 5 things you can do to make sure you go down in awesome Maid Of Honour history: 
Just Be There
Planning a wedding is hugely stressful so it's your job to alleviate some, or all, of this stress.  Easier said than done.  Choosing the dress will be that big moment the bride needs you more than ever, she's depending on you to not only tell the truth but to know when to keep your opinions to yourself.  You obviously know her better than anyone else, don't worry, you'll get it right if you trust your instincts. 
Don't forget, you're also there to help if the bride starts to become stressed or upset about the day. Reassure her that it will come together and show her how you can help. Make the whole experience as fun as possible. 
Be A Secret Agent
Making your bride happy means helping the groom.  Let's be honest, he may not remember those little things that you would think of that you know will make the day or lead up to the big day much more special.  Reminding him about key appointments or even just being there to translate the madness for him will be vital.  Maybe suggest a few little gifts or special touches along the way…get him brownie points and he'll never get in the way when a girlie night is needed! 
 3. Bring The Fun
Your bride will be looking for her wedding day to be the best ever and it's your job to work out how you can help to make that happen.  Little things like letting the DJ know about special people in the bridal party or amongst the guests – you know, like aunt Martha who's 92 but who loves to dance to Elvis… 
Not just that making sure she's around when the DJ is playing her favourite song or letting her know that certain people have arrived to the reception etc… 
The Hen Night
First things first, it's not your hen night!  That's the key to organising the best hen night ever.  Keep in mind what the bride wants, likes and needs and make sure you have contact details for everyone she would like to be there.  
Do your research and give her a few options to choose from to make sure you aren't way off the mark with your ideas. 
Don't organise anything before you talk to the bride and be sure to include everyone in the plans…even the guests you may not get along with. 
Be Prepared
Make sure you have a list of reminders for the big day because it's up to you to take care of the small things, like picking up the flowers or cake and making sure guests take favours and table arrangements with them as they leave. Throughout the day, stay on the ball and be prepared to respond to any situation. Of course, remember to gather the bridesmaids for the bouquet toss!