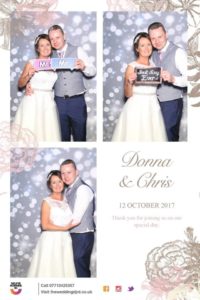 Wedding hashtags are still going strong, but have you thought about using a Snapchat filter to up your social media game for the big day?
What are they? Beautiful graphic overlays that add another fun visual element to photo or video Snaps. Customized Snapchat geofilters were launched last year, and they're finally starting to gain a little traction in the wedding world.
Snapchat is especially fun to use at weddings because the pics and clips can give an beautiful candid and intimate look at the celebration as it's unfolding. "From the beautiful bridal preparations at the start of the day to the dazzling images of the bride and groom dancing the night away; you want to capture every special moment.
People like to feel included in the whole experience, and Snapchat geofilters make the wedding day even more personal and involve your guests. You could even tie the theme in with your Selfie Mirror photo template, to entertain your wedding guests all evening.
How to set up a Wedding Geofilter – it is really easy!
The Snap chat geofilter isn't mobile optimized, so you will have to sit down and do it at your computer. Login and choose a geofilter type; choose from themes like love, wedding etc.)
Once you've logged in and selected a geofilter type (choose from themes like wedding, love, celebrations, etc.)
Select a specific template and then further design with personalised text, colors, fonts, and more
If you're feeling creative, you can even insert your Bitmoji or a Friendmoji that illustrates you and your soon-to-be spouse in cartoon form.
It's super easy. No Photoshop skills needed.
If you're really photo savvy, you can edit the templates and use your own image editing software to design your own geofilter
Check your design fits within Snap Chats guidelines and community guidelines
Select the start and end times, and geographical area for coverage where you live and/or your wedding venue.)
Snapchat will review the geofilter before approving it, but that only takes a day or so.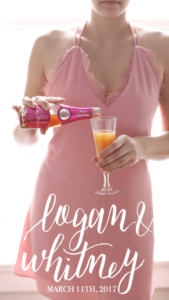 Pretty easy, right? No need to set aside a big portion of your wedding budget for a fun geofilter either. A customisable that covers one building for a few hours can be as little as $5. We recommend designing geofilters around your wedding theme, a shared joke, or the proposal story.
If you're worried about the temporary nature of Snapchat content when it comes to your wedding day, fear not. Snap chatters can save their own Snaps and Stories to their Memories, or simply download them to their phone's camera roll and you'll have permanent access.
On your wedding day
Just make sure your wedding guests know about the geofilter so they can start using it as they dive into the festivities of your special day.
Have signs that everyone can see from multiple entry points. You could even have it display on your Wedding Selife Mirror!
Don't forget they work for every occasion, so think engagement party, hen or stag party and give your wedding athe full social experience guest have come to expect!